Naruto Shippuuden: Kakashi Special Comes to Broadcaster Near You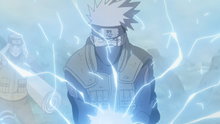 This week's Shounen Jump magazine announced that the Naruto Shippuuden TV anime series will be pausing the main story for a flashback on Hatake Kakashi's story and general background. The title Kakashi Anbu Hen ~Yami o Ikiru Shinobu~ translates as The Anbu Kakashi Arc ~The Shinobi who Lives in Darkness~.
 The announcement included an artwork. On it, some of the most powerful shinobi stood: Kakashi, Sarutobi (Hiruzen), Minato Namikaze, Uchiha (Itachi) and Yamato-sensei.
The special will begin on 6th January and will also be shown at the Pierrot booth during Jump Festa 2014.
Source: Shueisha's Weekly Shounen Jump
Is this great news or not-so-great? What do you think? Comment below.